Configure Address Book Settings
Configure Address Book Settings
---
Configure Address Book settings
To access the Address book settings window, follow this path from the File menu:
Start by selecting File > Configuration >Address book > Address book settings

Or click on

in the Address Book screen

There are four sections where you define system wide codes structures, terms of business and email settings:
Address book setup - rules for client codes where you decide on the rules for address book codes
Client Settings - rules for client settings eg type of codes, default terms, default email rules
Supplier Settings - default terms for suppliers (these can be over-written at the individual supplier record)
Employee Settings - global timesheet rules for employees
Address book set up
This is where decisions are made about the code numbers, the number of digits, and the basis for the codes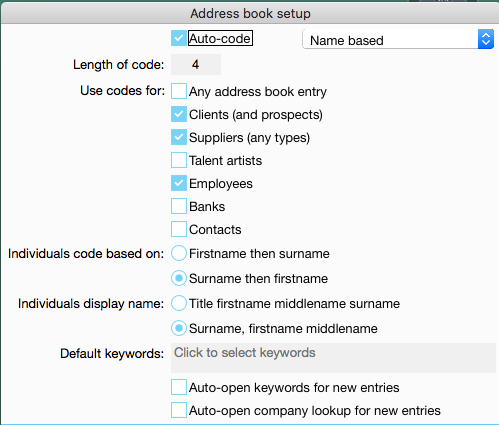 The following options are available:
Auto code: when selected JobBag generates code automatically when an address book record is created. in the example below, the code is name based. Untick the auto-code option if you wish to create your own codes.

Select Name based or Numeric from the drop down list.

Length of code: enter a number - usually 3 or 4 is sufficient
Use codes for: this is where you decide if you wish to have codes for clients or suppliers etc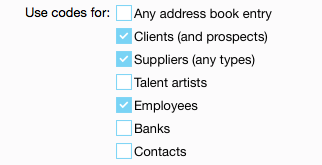 Individual codes based on: this is for employees and contacts - select one of the following options

Individual display name: - select one of the options

Default keywords: click to select default keywords to be added when creating a new address book

Auto-open keywords for new entries
Select option and configure keywords to be mandatory for eg client records

When a new address book client record is created, a keyword selection becomes mandatory
Auto-open company lookup for new entries

This will use the Australian Business Number lookup service if set up in the Australian country configuration settings.


Client settings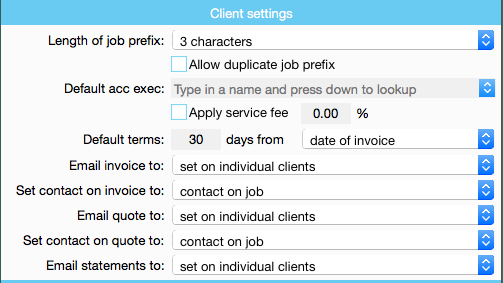 Length of job prefix: select number of characters from the drop down list; you have up to 5 characters
Allow duplicate job prefix: Tick this option if required
Default acc exec: select a name if all your jobs are the have one main account executive
Apply Service fee: select option if your company charges a service fee and enter the percentage service fee
Default terms: Enter the number of days and select either 'end of invoice month' or 'date of invoice'. This can be over-written in the client record
Email Recipient Options
Email invoice to: select one from drop down list

Set contact on invoice to:

Email quote to:

Set contact on quote to:

Email statements to:


Supplier settings
Enter Default terms. These can be changed when entering a supplier record.

Employee settings
Enter the default workday hours and client uitlisation percentage. These can be changed when entering an employment record.

---
Was this article helpful?
---
What's Next