Add address book entry
Business or Individual
- Business - A business address book record is a company
- Individual - An Individual address book record is a sole trader, employee or individual contact

Address book type(s)
The are a number of both business and individual address book types that can be set up in JobBag.
The most common being Prospects, Clients, Suppliers, Freelancers, Employees and Contacts
Business

Individual

See full list of address book types and explanations
Business new address book entry
Enter company name for a business and full name for an individual
Note: only the field with the "Red X" need to be filled in to create and save the record.

Individual address book entry window
Enter full name and address for an individual entry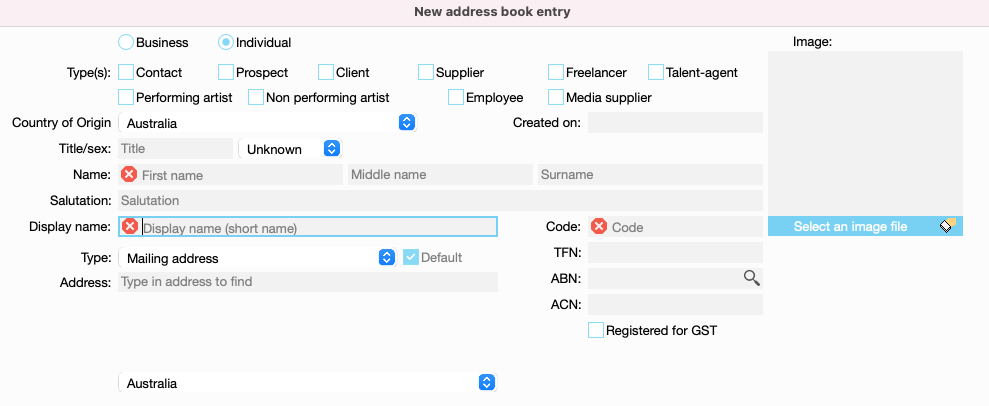 Field Name
Field Description
Registered for GST
Tick option if the Client/Supplier is registered for GST
Bank Account

This is the Supplier/Client bank account. It is optional but the supplier's bank account is required to pay the suppliers via the batch payments process. When it is filled in, the bank details will appears in the accounts tab on the suppliers address book record

Country of Business
This is the country where you supplier does business and should be selected if you want to trade in that currency.
You can choose the country using the drop down menu. If the country is not in the list it will need to be set up in countries refer link https://help.jobbag.com/v1/docs/countries
ABN
JobBag supports the Australian Business Register ABN look up service. This service allows you to verify that the business you are entering into your database is a registered entity. Turn on the service in File > Configuration > Countries, see link above.

Is Related Party
Tick this option if a client is a related party (as defined by accounting policy rules) of your organisation. This option is used to identify sales to related parties for reporting in financial statements.
Role
This field allows you to allocate an employee or freelancer to a role in the organisation chart
Details
Details section - Enter business contact information in the section

| | |
| --- | --- |
| Field name | Field Description |
| Keywords | Keywords can be set up so that you can group clients and suppliers by sector, supply, region etc |
| Default account | This allows you set up the default bank account this record will use when creating payments and receipts in JobBag |
| Parent Company | It allows you to link a set of clients/suppliers to a Parent company. |
Address Type Section
Address book type section - This section will vary depending on the address book type you have selected in step 1. In this example it is showing the information for a supplier.

---
Was this article helpful?
---
What's Next